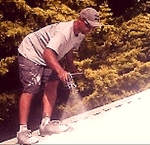 The population of the Central Coast has seen phenomenal growth in recent years resulting in many new houses and developments. As such, there are also many different types of roofing designs popping up and finding the right roofing company that can work on all types of roofs can be difficult.
Roof Restoration Central Coast has a website that was developed to answer this challenge. The homework and research has been done and Central Coast's most reliable roofing company has been selected. These guys service all of the Central Coast and are experts in all types of roofs, including tiled roofs, metal roofs and colorbond roofing.
Our roofing company owns and operates their own business and has all the necessary qualifications and licenses. In addition they have the appropriate insurances. Our team will be happy to work on any type of premises, either residential or commercial and will schedule a time that suits you to come and carry out an obligation free inspection. They are unique in carrying listening skills and performing work to meet your needs, not theirs.
The services offered by Roof Restoration Central Coast include;
Roof restorations
Roof replacements
Roof cleaning
Roof painting
New roofs
Re-roofs
Gutter installations & replacements
When considering a new roof, the can be a lot to think about and our team will be happy to consult with you and help you with the necessary factors to consider. They're always conscious of people's budgets so they will attempt to offer you the most cost-effective solutions first.
Alternatively, restoring a roof will deliver a nice new look to your home and will only cost a fraction of a roof replacement. After carrying out an inspection, our roofing experts will advise you if your roof can be or should be restored. A roof restoration typically involves cleaning the roof, carrying out any required repairs, and then painting & sealing the roof. This can be carried out to most types of roofs. Your roof might be covered in dirt, moss and lichen and this process is perfect for removing them and having your roof looking as good as new.
However, it is difficult to resist the brand new look of a re-roof. Changing from a colorbond roof to a tiled roof or from a tiled roof to a colorbond roof would completely rejuvenate the look of your home. This could be the best way to give your home a completely new look and feel. A new roof will also increase the value of your building. If a new roof is an option for you, call us now – our roofing experts will thoroughly inspect your roof and present you with advice and cost estimates free of charge.
If your home is in the Central Coast area, please call us anytime if you have any roofing needs. Our roofing experts will arrange a suitable time with you to perform a thorough inspection of your roof and discuss with you your requirements.