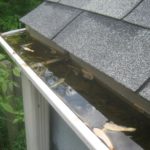 Tips And Tricks For Homeowners – Cleaning Guttering
The largest investment that most people will make is their property. However that initial investment is only the beginning of what for many people will be a long term struggle to not only maintain the value of their investment – but also, if possible to increase that value in the hope that they will be able to realize a good return – and then upgrade.
Unfortunately there are some maintenance jobs that are involved in protecting that investment which are tedious and simply do not show on the outside of the property – but if neglected will have dire consequences for the value of the home.
One of these is cleaning the guttering. Failure to do this on a regular basis can affect the structural integrity of the property and cause water damage that can be incredibly costly in the medium term.
On the face of it cleaning guttering can seem like the simplest job in the world. Just climb a ladder and scoop the debris out. But there are some common sense approaches that not only make the job that much easier and more effective – but safer as well.
Firstly remember that cleaning gutters shouldn't be an annual event – it should take place twice a year – in the Spring and in the Autumn (or Fall as the America's call that season). And on't wait until a big storm has hit and then retrospectively clean the gutters – wet debris is unpleasant to handle and a lot more difficult to remove.
Remember safety first. It may be tempting to scamper about the roof and not reposition a ladder. However, common sense would indicate that this is an incredibly dangerous approach.
Even if you practice ladder safety don't make one of the mistakes that is responsible for a large number of injuries. Don't overextend yourself. If you cannot reach a section of gutter without leaning away from the ladder then it's time to move the ladder – and make sure that the surface under the ladder legs is firm and that the ladder is set firmly.
Wear a good pair of gloves a use a simple garden trowel to help remove the debris. It'll make the process that much easier.
If you want to avoid the more unpleasant parts of the project then look into an investment in mesh guards which prevent the buildup of debris in the gutters. You'll still have to clean off the surfaces but it can really make a difference when performing the gutter cleaning job.
This article is thanks to the guys at Roof Restoration Narre Warren