Are you looking at buying an existing home?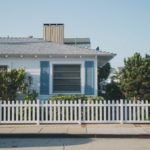 If you are there are a lot of things that you need to keep in mind before you purchase. One of those things is the condition and type of roof that the property has. There are a wide range of building materials available for roofing it this will greatly affect the lifespan and maintenance schedule for the roof itself.
Mold and rust
Check the roof to see if there is a buildup of mold. Mold can be bad for numerous reasons, with one of those being a bad smell. Also, it is a sign that there is possibly a leak somewhere inside the roof. Aside from that, mold can make a roof look unattractive and potentially shorten the lifespan of the roof itself. Fortunately, it is possible to work with a professional to get rid of the mold from your roof and to make any necessary repairs. If the roof is made of metal you will also want to be aware of any spots where there is rust.
Potential leaks
If a roof is at risk of leakage it can cause a host of problems that are often very expensive to fix. For this reason, you want to make sure the roof of the home you're potentially buying doesn't have leaks or potential weak points that can lead to leaks. A good way to check for previous leaks is to look for wet spots on the interior of the property such as the ceiling and walls.
Structure
Depending on the type of material that the roof is made of it will require s strong structure underneath to take the weight. This is particularly important for such materials as tiles and slate. Make sure you get a building report on the condition of the underlying is sound and does not have any rust, wood root or termite damage.
The best thing that you can do to make sure that the roof is in good order is to organise a professional roof inspection. Roof Restoration South Adelaide are specialists at this and will provide you with a written quote for any work required as well as a full condition report on the roof itself. This can potentially give you a lot of bargaining power in the negotiation of the property if there are issues with the roof.