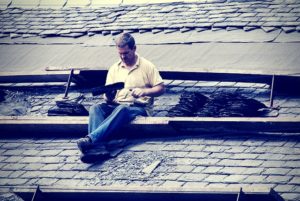 Lots of property owners think twice before investing cash and time into a roof related project. It's often the case of out of sight, out of mind. Issues with your roof, however, can snowball into many other issues.
In this post we discuss some DIY roof maintenance tasks, but we highly recommend using professionals such as Roof Restoration Newcastle who helped us compose this post.
A roof restoration and its implied roof repairs cannot be underestimated. It is a worthwhile exercise that should be carried out more regularly than not.
Think about it – your roof pretty much protects your entire building from all of the elements, not only does it protect contents of your home but also building components such as ceilings, internal structures, gyprock, walls, etc.
You can pick up early indications of problems if you carry out regular visual inspections of your roof several times per year. Consider calling a professional roofing company if you find missing or cracked tiles, signs of leaks on your ceilings and walls, and loose or dislodged ridge capping.
Regular DIY maintenance can help prolong the life of the roof.
Check all gutters for build up of leaves and debris and clean them all if necessary. Debris in gutters can restrict water drained and result in overflowing of water to areas of the roof you don't want water in.
Inspect the roof, checking for foreign items that could be creating an obstruction such as tennis balls, soccer balls, frisbies, etc. Remove any of these items if found as they can alter the flow of water in heavy rain periods.
Check materials made of metal are well coated with paint and do not have exposed bare metal which can rust away within a few years requiring replacement.
If you have a tiled roof, look for any dislodged tiles which can be put back in place. If you find some, carefully manoeuvre them back into place without disrupting the surrounding tiles. If you cannot put them back into place without too much trouble, please consult with a roofing professional. Likewise, if you find any cracked or broken tiles, consult with your local roof restoration company.
If you have a colorbond roof, check for loose sheeting or missing screws. If you're handy enough, you maybe able to fit new screws where missing and ensure the colorbond sheeting is well secured.
Check any roof vents are clear of debris and are clean. Look around the vent and carefully check the sealant that has been applied, looking for signs of deterioration. You may have to visit your local hardware shop for some roof sealant (make sure you go for high-grade / high quality sealant) to carry out simple repairs if you find the sealant worn.
In summary, simple tasks such as those suggested above carried out regularly, may save you thousands in the long run. Please take caution when climbing up on the roof, and if you have any doubts at all about what you are doing, please consult a professional roofing company. If you happen to live on the Central Coast, check out our new article on Finding a Roof Restoration Company on the Central Coast.
Our post is solely intended to give ideas about roof maintenance and we in no way recommend you get on your roof if you are not a roofing professional and not qualified to do so. Please assess your own situation carefully and make your own judgement about what DIY maintenance you can confidently carry out. 
Image Credit: By Karora – Own work, Public Domain, https://commons.wikimedia.org/w/index.php?curid=2798969